welcome
Since its inception in 1996, the vision of the Fine Arts Connection of Thomaston has been to create an organization dedicated to promoting the varied expressions of creativity in the realm of fine arts. One focus of this vision is to expose adults and children alike to the many diverse forms of art that exist in and around Thomaston, CT such as theater, music, dance, writing, painting, photography and many more.
It is recognized that the arts serve to assist a person in experiencing a greater satisfaction with life, either as a member of an audience or as a participant. The audience can listen to or observe and absorb what the artist has presented, while the participant can express his or her inner soul through the music, camera eye, dance, or canvas. No matter how one experiences the arts, experiencing them is paramount to one's enjoyment of life, for life, in itself, is art.
___________________________________________________________
The Fine Arts Connection of Thomaston presents the first of two Winter Concerts!
The Kenn Morr Band
who will perform songs from their latest album release
Along the Way.
Sunday, January 28, 2018 – 2:30 p.m.
First Congregational Church of Thomaston
135 Main Street
Thomaston, CT 06787
Go to the music page for more details about this event!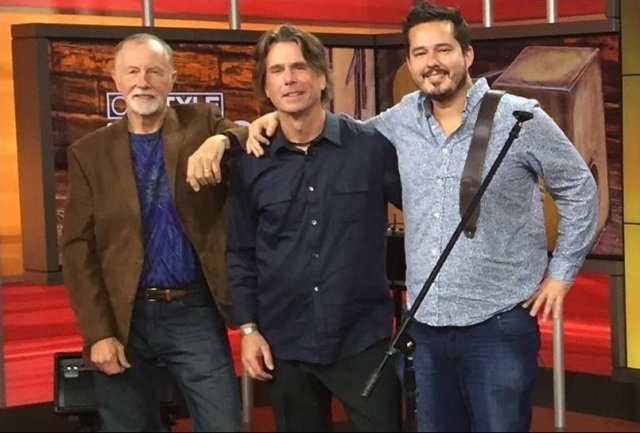 ___________________________________________________________
The Fine Arts Connection of Thomaston presents
Over the Edge
January 27 – February 11, 2018 at the Crescent Gallery, 158 Main Street, Thomaston, CT
The theme of the Ten-2-One Artists' first show of the new year is abstract verses realism. Over the Edge is all about freedom of expression and exploring new avenues. A fascinating show that promises to be visually stimulating with a variety of work that ranges from vibrantly abstract to photo realistic.
The Gallery will be open one hour before show times of the Thomaston Opera house productions of Cabaret.
Jan 27, Feb 2, 3, 9, 10: 7-8pm
Jan 28, Feb 4, 11: 1-2pm
The gallery is open every Thursday from 10am-1pm for open studio sessions – Meet the artists and enjoy the gallery show.
View more of Ten-2-One Artists on Facebook at Crescent Gallery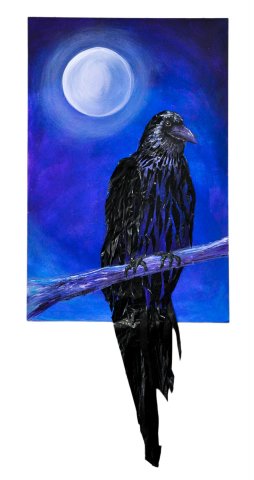 Image:Never More
mixed media painting by Pat Piscopo
___________________________________________________________
Thank you Thomaston Savings Bank for choosing the Fine Arts Connection of Thomaston (FACT) as one of many grant recipient's in the bank's *20 Ways in 20 Days.
FACT President Dennis LaPlante accepts the grant check from the Thomaston Savings Bank Information Technology team on December 1st.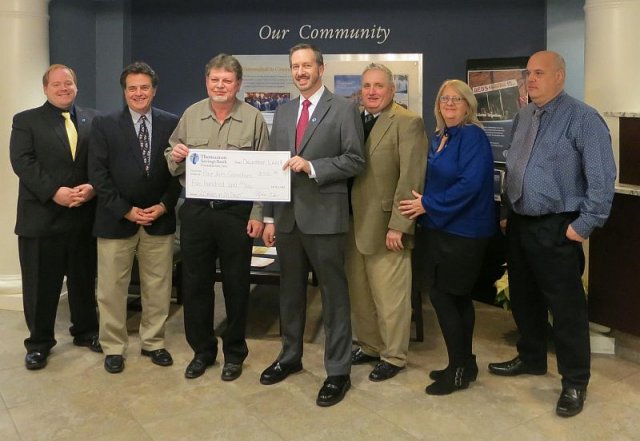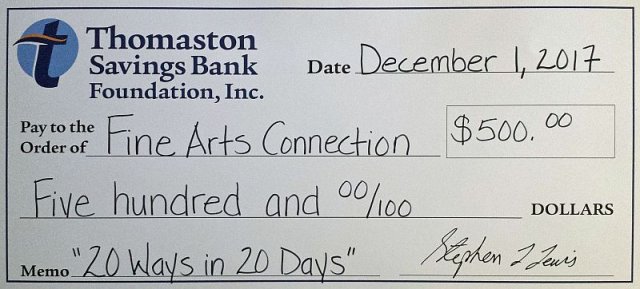 ___________________________________________________________
Photo of the Ten-2-One Artists


Left to right – front row (seated): Pat Piscopo, Fredricka Schwanka, Carmina Ayazides, Ann Walsh, Claudia Pettinicchi
Middle row: Don Clark, Robert McEvoy, Cassandra Guidess, Deborah Apostolico, Ash Royer, Carol Kunschaft, Susan Coppola, Judi Kontout, Patty MacIver
Back row: Cindy Blanchard, David Jean, Molly Barnes, Bill Lutkus, Nancy Fischer, Bob Brophy, David Verdosci
_____________________________________________________________
Our Facebook links are:
Ten-2-One Artists
Crescent Gallery
_____________________________________________________________