welcome
At this time, ALL group meetings and events have been suspended due to the COVID-19 coronavirus social distancing policies in place by our government.
There will be no face-to-face meetings taking place anywhere within the Fine Arts Connection of Thomaston until further notice.
Please feel free to communicate through social media and emails until such time as things return to normal.
Dennis LaPlante
President
Fine Arts Connection of Thomaston
___________________________________________________________
It is with great sadness that FACT has decided to cancel the 2020 Summer Concert Series due to the COVID-19 concerns.
We have made the decision based on many factors, but mostly in the interest and safety of everyone.
A large amount of work has gone into planning this year's concerts and we thank everyone who has played a part in the effort. There are just too many variables way beyond our control.
We will again be planning to bring this series back in 2021.
Please continue to be safe and healthy. Thank you to everyone that plays any part in the fight against this virus.
Dennis LaPlante
President
FACT
___________________________________________________________
Since its inception in 1996, the vision of the Fine Arts Connection of Thomaston has been to create an organization dedicated to promoting the varied expressions of creativity in the realm of fine arts. One focus of this vision is to expose adults and children alike to the many diverse forms of art that exist in and around Thomaston, CT such as theater, music, dance, writing, painting, photography and many more.
It is recognized that the arts serve to assist a person in experiencing a greater satisfaction with life, either as a member of an audience or as a participant. The audience can listen to or observe and absorb what the artist has presented, while the participant can express his or her inner soul through the music, camera eye, dance, or canvas. No matter how one experiences the arts, experiencing them is paramount to one's enjoyment of life, for life, in itself, is art.
___________________________________________________________
The Fine Arts Connection of Thomaston presents A Quiet Nature Gallery Show, featuring a special exhibit of paintings by Susan Coppola, February 27 – April 22, 2020 at the Crescent Gallery, 158 Main Street, Thomaston, CT
Featured artist Susan Coppola is an accomplished oil painter with brush strokes that are impressionistic, and her work has a calm, peaceful stillness. She is a very active member of the Ten-2-One Artists, often doing a lot of behind the scenes work to make the open studio sessions run smoothly. View Susan's artwork alongside her fellow Ten-2-One Artists at the Crescent Gallery.
The Gallery will be open for one hour before show times of the Thomaston Opera House production Of Mice and Men
March 14, 20, 21, 27, 28: 7-8pm
March 15, 22, 29: 1-2pm
Come and meet the artists at the gallery's open studio, every Thursday from 10am-1pm and watch them work. For more info visit online:
www.ten-2-oneartists.com or www.facebook.com/CrescentGallery
Image: Almost Sunset…Watertown CT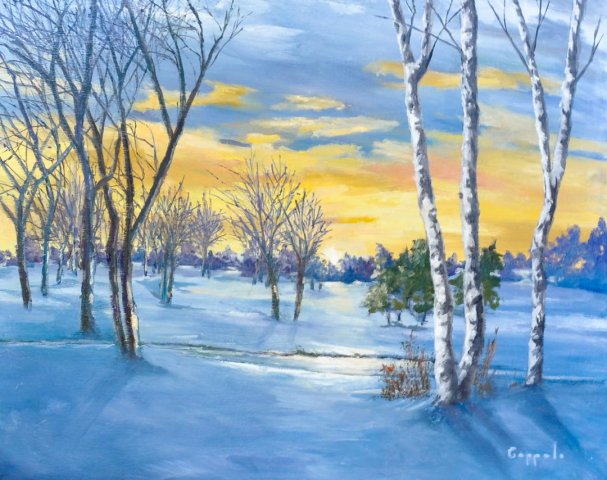 ___________________________________________________________
Fund Raiser Slated
The Ten-2-One Artists have painted slate tiles for the Railroad Museum of New England (RMNE). These slate tiles were saved from the original 1881 roof of the Thomaston Railroad Station. Each artist has hand painted and signed their slate. These slates will be on display at the RMNE gift shop starting September 20th. All slates are to be sold for $20 and all proceeds go to the RMNE.
"We have had fun creating these, and making new friends at the Railroad Museum. It was great to see how each artist approach their slate design — each one is so unique. By purchasing one, you'll get a piece of art and a piece of history" Pat Piscopo said.
For Train Station schedules and tickets visit www.rmne.org or call (860) 283-7245.
For more info on the Ten-2-one Artists visit www.ten-2-oneartists.com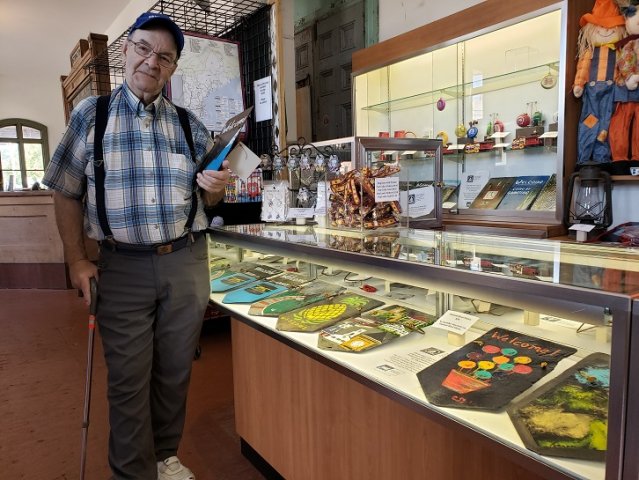 Visit the new Ten-2-One Artists website to read about the artists and see the beautiful artwork that these people have created….just beautiful!
https://www.ten-2-oneartists.com/
___________________________________________________________
Photo of the Ten-2-One Artists


Left to right – front row (seated): Pat Piscopo, Fredricka Schwanka, Carmina Ayazides, Ann Walsh, Claudia Pettinicchi
Middle row: Don Clark, Robert McEvoy, Cassandra Guidess, Deborah Apostolico, Ash Royer, Carol Kunschaft, Susan Coppola, Judi Kontout, Patty MacIver
Back row: Cindy Blanchard, David Jean, Molly Barnes, Bill Lutkus, Nancy Fischer, Bob Brophy, David Verdosci
_____________________________________________________________
Our Facebook links are:
Ten-2-One Artists
Crescent Gallery
_____________________________________________________________
New Website – artists bios and artwork displayed in a very well laid out format.