welcome
Since its inception in 1996, the vision of the Fine Arts Connection of Thomaston has been to create an organization dedicated to promoting the varied expressions of creativity in the realm of fine arts. One focus of this vision is to expose adults and children alike to the many diverse forms of art that exist in and around Thomaston, CT such as theater, music, dance, writing, painting, photography and many more.
It is recognized that the arts serve to assist a person in experiencing a greater satisfaction with life, either as a member of an audience or as a participant. The audience can listen to or observe and absorb what the artist has presented, while the participant can express his or her inner soul through the music, camera eye, dance, or canvas. No matter how one experiences the arts, experiencing them is paramount to one's enjoyment of life, for life, in itself, is art.
_____________________________________________________________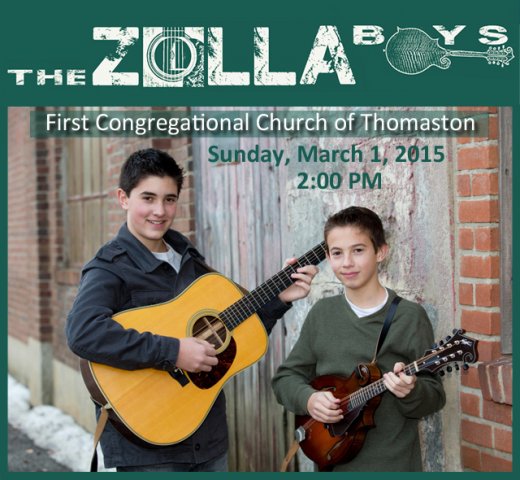 The Fine Arts Connection of Thomaston will feature The Zolla Boys, in the second of two free concerts made possible by a generous grant from the Thomaston Savings Bank Foundation. The concert will take place at the First Congregational Church on March 1st, at 2:00 pm.
The Zolla Boys are a family bluegrass band from Torrington, Connecticut. The band consists of 13 and 14-year-old brothers Sam and Ben on mandolin and guitar, and their father Larry playing bass. On-line lessons, late night festival jams, and instruction from their dad have all helped in developing the Boys' signature sound, and they are proud to be a part of the fabulous bluegrass community. The Zolla Boys have played many different venues and festivals, including being featured on the Emerging Artist Stage at Grey fox Bluegrass Festival in Oak Hill, NY.
www.thezollaboys.com
_____________________________________________________________
The Camera Club has a new director – Gary Hodge. Please welcome him as he brings his talent and leadership to photographers of all skill levels…..
_____________________________________________________________

The Fine Arts Connection of Thomaston received a $25,000 grant from the Connecticut Office of the Arts to help fund ArtZfest 2014 which was held on May 17 in collaboration with the Arts and Culture Round Table.
_____________________________________________________