welcome
Since its inception in 1996, the vision of the Fine Arts Connection of Thomaston has been to create an organization dedicated to promoting the varied expressions of creativity in the realm of fine arts. One focus of this vision is to expose adults and children alike to the many diverse forms of art that exist in and around Thomaston, CT such as theater, music, dance, writing, painting, photography and many more.
It is recognized that the arts serve to assist a person in experiencing a greater satisfaction with life, either as a member of an audience or as a participant. The audience can listen to or observe and absorb what the artist has presented, while the participant can express his or her inner soul through the music, camera eye, dance, or canvas. No matter how one experiences the arts, experiencing them is paramount to one's enjoyment of life, for life, in itself, is art.
___________________________________________________________
The Fine Arts Connection of Thomaston's annual Summer Concert Series officially kicked off its 16th season on Monday, June 25th @ 7:00 p.m. in Seth Thomas Park.
The concert series runs every Monday evening from June 25th to August 20th.
Corporate sponsor is the Thomaston Savings Bank Foundation!
which makes the concert series free for all to enjoy!
Wow! What an amazing night we had in the park with 60's Satisfaction! I don't think there was a song that didn't bring back some memories!!! Thomaston really came out for this one – you were a great crowd and thank you to everyone that came out in classic 60's style garb.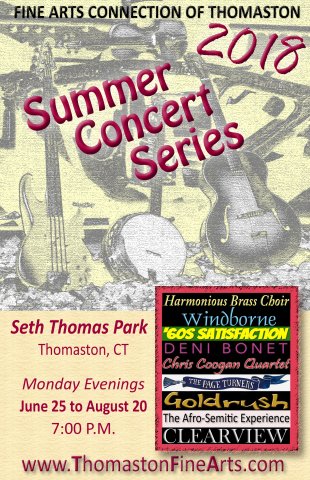 Week 4 also promises to be another knockout evening as we bring you an extremely talented performer – DENI BONET!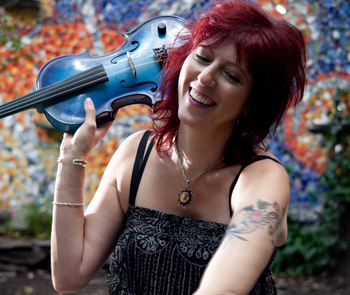 DENI BONET is a pop/rock singer/songwriter and classically trained violinist who has recorded and performed with R.E.M., Sarah McLachlan, Cyndi Lauper, Scissor Sisters, and Warren Zevon among many others. She was an original member of the cast of the nationally syndicated NPR radio show "Mountain Stage"; singing and performing in her own right and accompanying guests on the show. Deni left the show to pursue a solo career, with a mission to prove that there is more to the violin than concertos and hoedowns. She has performed at Carnegie Hall, the United Nations, Lilith Fair and the White House for President Obama, the First Lady and Vice-President Biden. Deni Bonet has become an in-demand act, headlining various festivals, performing arts centers, clubs, colleges and international venues. Her music has been featured on HBO, NBC, American Airlines, several film and modern dance projects, and has been described by the Wall Street Journal as like "Sheryl Crow meets the B-52's".
Go to the MUSIC page to see more info….
___________________________________________________________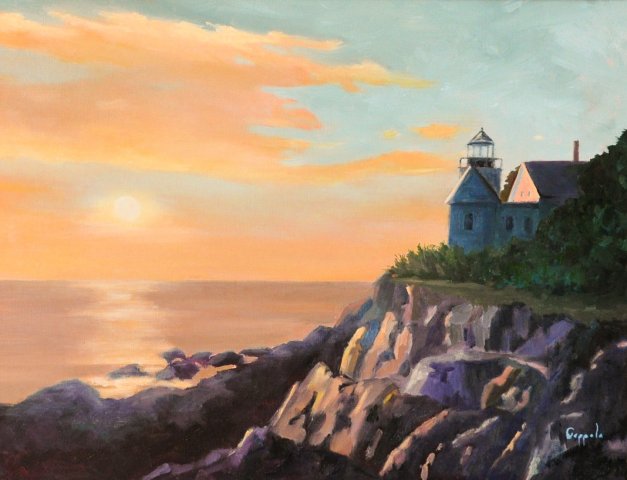 The Fine Arts Connection of Thomaston presents "Home Sweet Home"
July 14- 29, 2018 at the Crescent Gallery, 158 Main Street, Thomaston, CT
The focus of this show is to find a perfect match. The works for sale hope to find their forever home. If you have an empty wall, we have a painting ready to hang in that special spot. There will be artwork suitable for the kitchen, living room, man cave, and even the powder room. These artists have been painting for a long time and have a great body of work.
The Gallery will be open one hour before show times of the Thomaston Opera house productions of "Annie".
July 14, 20, 21, 27, 28: 6-7pm
July 15, 22, 29: 1-2pm
Image:
"Bass Harbor, Maine"
Oil painting by Susan Coppola
___________________________________________________________
Photo of the Ten-2-One Artists


Left to right – front row (seated): Pat Piscopo, Fredricka Schwanka, Carmina Ayazides, Ann Walsh, Claudia Pettinicchi
Middle row: Don Clark, Robert McEvoy, Cassandra Guidess, Deborah Apostolico, Ash Royer, Carol Kunschaft, Susan Coppola, Judi Kontout, Patty MacIver
Back row: Cindy Blanchard, David Jean, Molly Barnes, Bill Lutkus, Nancy Fischer, Bob Brophy, David Verdosci
_____________________________________________________________
Our Facebook links are:
Ten-2-One Artists
Crescent Gallery
_____________________________________________________________