welcome
Since its inception in 1996, the vision of the Fine Arts Connection of Thomaston has been to create an organization dedicated to promoting the varied expressions of creativity in the realm of fine arts. One focus of this vision is to expose adults and children alike to the many diverse forms of art that exist in and around Thomaston, CT such as theater, music, dance, writing, painting, photography and many more.
It is recognized that the arts serve to assist a person in experiencing a greater satisfaction with life, either as a member of an audience or as a participant. The audience can listen to or observe and absorb what the artist has presented, while the participant can express his or her inner soul through the music, camera eye, dance, or canvas. No matter how one experiences the arts, experiencing them is paramount to one's enjoyment of life, for life, in itself, is art.
_____________________________________________________________
COLORWORKS at the Crescent Gallery, located at 158 Main Street in Thomaston.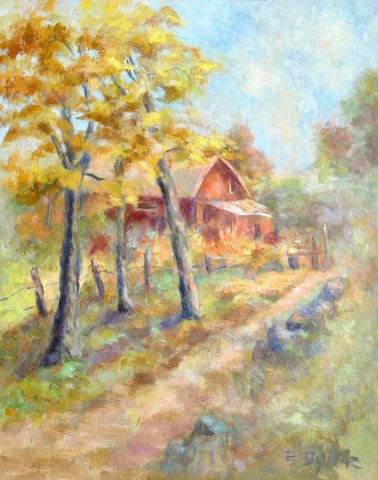 An oil painting "In My Own Backyard" by Emma L. Byrne, is one of many colorful works of art created by the talented Ten-2-One Artists for our new show. The gallery is open every Thursday from 10 to 1, and one hour before each performance of "Sister Act"; presented by the Thomaston Opera House.
Show dates are April 16, 22, 23, 29, and 30 from 7 to 8 pm. April 17, 24 and May 1 from 1 to 2 pm.
The entrance to the gallery is located in the lobby of the Thomaston Opera House next to the box office.
For information contact Pat Piscopo at 860-283-2155
_____________________________________________________________
Thomaston Savings Bank Foundation comes through again!
We are extremely greatful to the Thomaston Savings Bank Foundation who have again partially funded the Thomaston Summer Concert Series 2016. With their financial support and yours we can provide another 9 weeks of free live music!
Go to the music page now to see brief bio's and links to the artists' websites to see the exciting list of artists we have booked for the summer of 2016.
Concerts start June 20th at Seth Thomas Park – 7:00 pm.
_____________________________________________________________